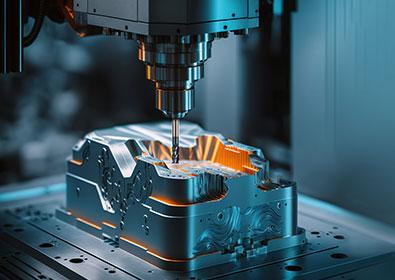 Date: March 17 2023 - May 26, 2023
Category: Adult Learning
Location: Greenfield Community College at Franklin County Technical High School
Time: TBD
Length: 100 Hours   
Region: West
Program Goals: The CNC Technologies Certificate is designed to prepare graduates to enter the field of advanced manufacturing specifically as a Computer Numerical Control (CNC) operator/programmer. Students will gain an understanding of industry-standard design software, the conventions of blueprint reading, safety, metrology, quality, and the operations of manufacturing equipment. Using safe working practices, students will learn to operate, set up, and program CNC equipment. Graduates will be able to apply sound mathematical principles to solve manufacturing problems.
Student Learning Outcomes: Upon completion of the program, graduates will be able to
Apply mathematical and scientific concepts to solve manufacturing problems.
Work on a variety of manufacturing systems.
Practice safe working protocols and responsible use of tools and machinery in a manufacturing environment.
Communicate technical information both verbally and in written form.
Use modern tooling, skills, and techniques for effective manufacturing systems practice.
Apply accurate design methodology and use industry-standard design software to improve quality and production.
Help identify problems before they occur and assist with solution designs.
Understand and manage product variability as defined by quality systems.
Learn methods to analyze, synthesize, and control manufacturing systems.
Safely operate, program, and set up a variety of manufacturing equipment.
Measure manufacturing process variables and draw credible technical conclusions.

Source: US Bureau of Labor Statistics