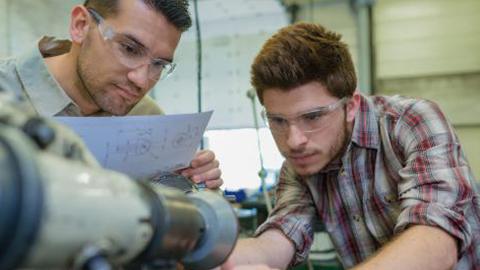 Program Goals:
Our engineering technology training is tailored to arm students with professional competencies in various Engineering Technology skills. This curriculum includes essential math and English courses designed to enhance students' overall academic proficiency. The course aims to immerse students in the basic principles of engineering, emphasizing practical applications that qualify them to operate as competent technicians in the advanced manufacturing industry.
What You Will Learn:
Upon successful completion of this pre-engineering training program, graduates will be able to:
Communicate effectively, mastering the nuances of both written and verbal communication.
Leverage mathematical concepts and methodologies to rectify technical issues.
Utilize electronic testing devices, including multimeters, function generators, and oscilloscopes.
Dissect elementary electronic systems and employ troubleshooting techniques for effective repairs.
Understand the process of crafting, innovating, and actualizing products through focused design and implementation.
Use precise design methods and industry-standard CAD/CAM software to augment quality and manufacturing output.
Deploy modern engineering technology tools, skills, and strategies to optimize manufacturing systems effectively.
Team up on interdisciplinary projects in a business environment to troubleshoot real-world problems.
Evaluate challenges and craft suitable algorithmic solutions.
Utilize state-of-the-art tools, skills, and methodologies to tackle real-world engineering issues in a business setting.

Source: US Bureau of Labor Statistics