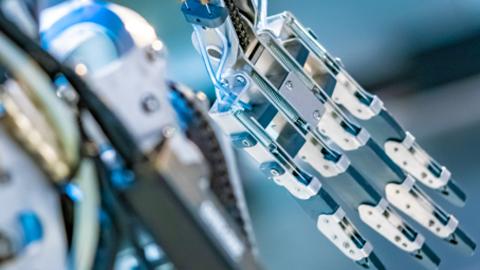 Program Goals:
The goal of the Manufacturing Automation and Robotics Certificate Program is to equip students for rewarding roles in the advanced manufacturing industry. These professionals are trained to install, maintain, troubleshoot, and repair a broad range of computer-driven automated equipment and robotic systems. The training encompasses the core aspects of electronics, mechanics, computer interfacing, and software used in automated manufacturing.
This course is tailored for individuals looking to work directly with robotic and electro-mechanical devices in modern manufacturing, logistics, and maintenance settings. Trainees will employ their knowledge of electrical circuitry and mechanical engineering to operate and maintain robotic and advanced manufacturing equipment. This training includes close collaboration with engineers and machinists to design, test, improve automated mechanical equipment, troubleshoot malfunctions, repair faulty devices, and apply preventative measures in the field of manufacturing automation.
Upon completing this rigorous training course, students will have hands-on practical experience in the use and application of electrical instruments and mechanical measuring devices. Moreover, they will become proficient in reading and utilizing data sheets, system specifications, schematic diagrams, timing diagrams, and wiring diagrams. The training emphasizes safe work habits and procedures, preventive maintenance, localization, and correction of malfunctions, and automation troubleshooting techniques in the manufacturing sector.
What You Will Learn:
Upon completion of the Robotics and Manufacturing Automation Technician course, students are able to:
Given schematics, wiring diagrams, mechanical drawings, and/or instructions, build and test electronic and electronically-controlled systems.
Use multimeters, oscilloscopes, power supplies, and function generators to analyze and troubleshoot circuits for automation in manufacturing.
Apply the concepts and methods of fundamental mathematics principles to the solution of technical problems in manufacturing automation.
Assemble electronic systems using proper soldering and wiring techniques.
Communicate effectively in a manufacturing environment.
Collect, sort, and analyze data using a spreadsheet.
Troubleshoot and configure computer networks used in automation.
Work effectively as a member of a team toward the solution of manufacturing automation problems.
Wire, test, and program basic programmable logic controller systems in manufacturing automation.
Troubleshoot and repair basic mechatronic systems in manufacturing automation.
Program and troubleshoot basic robotic systems used in manufacturing automation.
Source: US Bureau of Labor Statistics