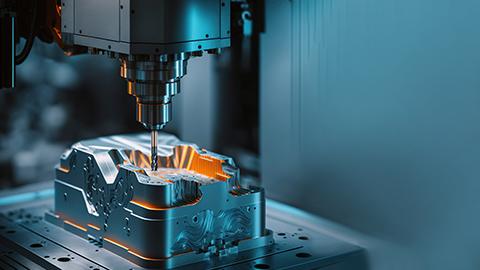 Program Goals:
The CNC Machinist Training program aims to equip candidates with the skills and knowledge necessary to excel as CNC operators in the advanced manufacturing sector. The course work and training covers essential aspects of CNC technologies, including the operation of industrial manufacturing equipment and the application of industry-standard tools and design software. Candidates will be introduced to fundamental procedures such as blueprint reading, safety, metrology, and quality control. The curriculum bridges the gap between mathematical principles and advanced manufacturing processes in its courses and training. Graduates will be proficient in setting up, operating, and programming computer numerical control (CNC) machines and will learn to adhere to safe working practices.
What You Will Learn:
Upon successful completion of the CNC Machinist Program course work, graduates will be able to:
Apply mathematical and scientific concepts to troubleshoot CNC manufacturing challenges
Set up, operate, program, and manage various CNC machines and manufacturing equipment safely and efficiently in industrial settings
Adhere to safe working practices and responsible use of CNC tools and machinery
Communicate technical information effectively as a skilled machinist
Proactively identify CNC machine and production issues and help develop viable solutions
Comprehend product variability and tolerances as specified by quality control processes and available tools
Employ resources to help assess manufacturing process variables and draw reliable technical conclusions
Implement precise design methodologies and design software to improve accuracy and production efficiency in CNC manufacturing
Apply skills, techniques and modern CNC tools to optimize manufacturing systems practices
Analyze, integrate, and control operations for a range of manufacturing systems

Source: US Bureau of Labor Statistics
There is no events matching your search criteria. Please try another combination.